The Cool Clima are the lightest and driest Qik socks! Ultralight mesh for sock-height and footbridge, the sole is entirely made of Climapsule for temperature control. The thicker inserts placed at the pressure points such as the heel, phalanges and metatarsal areas, other than absorbing the impacts, also provides a pleasant sensation of softness during impact. The light compression band in the arch area keeps the sock firm and stable, providing support by reducing the possibility of plantar fasciitis. Anatomical, seamless and fits like second skin without causing any discomfort, the band around the calf helps keep the sock in place without squeezing. The antibacterial property of the fabric eliminates unpleasant odors even during long lasting activities.

Features
NoSeam
Thanks to the most modern production machines, it is possible to apply seamless technology, which eliminates seams and guarantees no discomfort to the foot.
RvsL
Right vs Left: Anatomical construction of the sock differentiated between right and left foot to ensure comfort and proper fit.
Fix Compression Bridge
Comfort and maximum stability! The bridge and arch of the foot are wrapped in the sock like second skin, guaranteeing unique stability during movement and at the right compression to facilitate blood flow, thus improving the oxygenation of the muscles and therefore speeding up recovery.
No-Block-Cuff
What's more annoying than a leg-tightening rubber band or worse than a falling sock? Qik's elastic wristband with No-Block-Cuff system adheres perfectly to the leg supporting the sock but without tightening.
Heel Guard
High density inserts that protect the heel and dampen the pressure.
Ultra light
Very fine and very open knitted sock construction, for this reason, ultra light. Socks with this technology are lightened without losing their characteristics such as comfort and durability.

Technology
Climapsule
The Climapsule technology consists of applying advanced heat management or so called phase change materials in key areas where the greatest body heat development is accumulated during hot and humid conditions. These are patented fabrics, originally developed in the aerospace field for NASA to protect astronauts from extreme temperatures in space, which are able to absorb, store and release heat intelligently: in the event of excess body temperature the heat is absorbed, when it lowers it is released. This is allowed by microcapsules incorporated in the fibers and protected by a polymer membrane that guarantees a long duration. Unlike other fabrics, it is not based on capillarity and the expulsion of sweat from the skin, but it intervenes first, reducing the emission itself and balancing the temperature.
UNISEX
| | | | | | |
| --- | --- | --- | --- | --- | --- |
| | S | M | L | XL | XXL |
| Shoe size (EU) | 35 - 37 | 38 - 40 | 41 - 43 | 44 - 46 | 47 - 49 |
| Shoe size (US) man | 3,5 - 5,0 | 6,0 - 7,5 | 8,0 - 9,5 | 10,5 - 12,0 | 13,0 - 14,5 |
| Shoe size (US) woman | 4,0 - 6,5 | 7,0 - 9,0 | 9,5 - 11,5 | 12,5 - 14,0 | 14,5 - 16,0 |
| Shoe size (UK) | 2,5 - 4,5 | 5,0 - 7,0 | 7,5 - 9,5 | 10,0 - 12,0 | 12,5 - 14,5 |
For the correct garment treatment, please follow the manufacturer's instructions.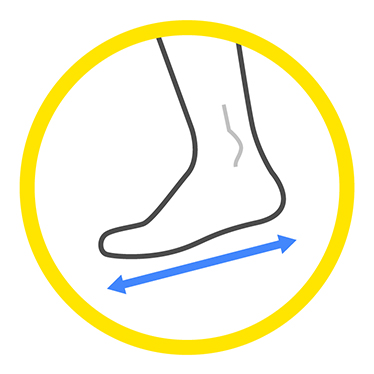 To be able to write a review you need to be logged in
To ask a question to other users you need to be logged in.