Your essential windproof riding jacket for windy or wet conditons
Designed to offer proven and reliable weather protection at the most accessible price point.
As your passion for cycling increases you need the best equipment to support it. We created this jacket to provide your first entry into GORE-TEX INFINIUM™ WINDSTOPPER® and the cycling apparel of Gore Wear. It is versatile for all your needs and great value for every day wear. Once you experience the difference good kit can make to your bad weather riding experience you will never look back.
Active fit: These items are designed with a straight cut from shoulders or pelvis to lightly skim chest, waist, hip and thighs.

Features
Totally windproof, extremely breathable and durably water resistant.
Lightweight protection.
Close fit high collar.
Adjustable cuff.
Adjustable hem.
Napoleon pocket with zip.
Zipped back pocket.
Zip tags for easy opening.
Full length zip with underflap and zipper garage.
Contemporary look.
Reflective details.
Engineered for Cycling.
Weight: 288 grams.
Temperature range: 16° - 24° C.

Technology
GORE-TEX INFINIUM™
The new, non-waterproof GORE-TEX INFINIUM™ products range builds on the quality and performance of the original GORE-TEX products range. It is not a technology on its own but hosts a variety of established and new product technologies that provide you with versatile aspects of comfort and protection.
Whatever passions keep you moving, the new GORE-TEX INFINIUM™ series has best in class solutions. Made for when comfort and performance take priority over waterproofness.
MEN
S
M
L
XL
XXL

A

Chest (cm)
83-88
89-94
95-100
101-106
107-112

A

Chest (inch)
32.75-34.75
35.37
37.5-39.5
39.75-41.75
42-44

B

Waist (cm)
73-78
79-84
85-90
91-96
97-102

B

Waist (inch)
28.75-30.75
31-33
33.5-35.5
35.75-37.75
38-40

C

Arm length (cm)
76.5-78
79-80.5
81.5-83
84-85.5
86.5-88

C

Arm length (inch)
29.75-30.75
31-31.75
32-32.75
33-33.75
34-34.75
For the correct garment treatment, please follow the manufacturer's instructions.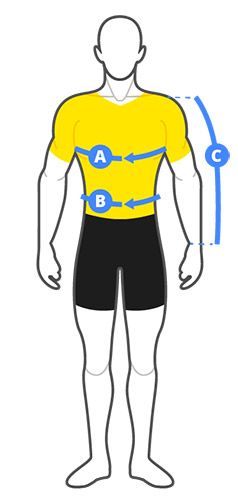 To be able to write a review you need to be logged in
To ask a question to other users you need to be logged in.