Castelli Perfetto sleeveless vest
Do you recall the old Fawesome vest? It was a great weather resistant mid weight gilet but the awesome Fawesome lacked a little something – pockets! The new Peretto is now – well… perfect its still a mid-weight gilet, capable of throwing off the majority of the bad weather, packing up small enough to fit in a jersey pocket -meaning you don't need to worry about the weather improving if you wear it at the start of a ride and crucially the Perfetto Vest now has twin pockets outback. Castelli Cycling on the Perfetto VestOur race vest that you used to know as the Fawesome Vest has gone from merely awesome to perfect — or, rather, Perfetto. We keep the Gore® Windstopper® X-Lite Plus on the front and shoulders, combined with Nano Flex Light on the back for water repellence with high breathability and an extremely aero fit. We cut the neck high, and, new for this year, we give it two pockets on the back for extra carrying capacity.

Features
Gore® Windstopper® X-Lite Plus on front and shoulders provides lightweight wind protection.
Nano Flex Light fabric on back protects from wheel spray.
Packable construction.
Full-length YKK® Vislon zipper with wind flap.
2 rear pockets.
Reflective trim on back for visibility.
Comfort Range 10°- 18°C.

Technologies
Rosso Corsa
Our Rosso Corsa label is only applied to the highest-level products we make. Every thread and fiber, every curve and contour is obsessed about. Rosso Corsa represents a categorical breakthrough in cycling innovation and the meticulous craftsmanship you expect from Castelli's performance-enhancing apparel.
Windstopper© X-Lite
The highly stretchable Windstopper® X-Lite fabric moves naturally with your body and doesn't restrict movement. It also delivers unprecedented performance, with 100% wind protection, and up to ten times greater breathability compared to other windproof fabrics.
MEN
S
M
L
XL
2XL
3XL

A

Chest (cm)
92
96
100
105
110
115

B

Waist (cm)
80
84
88
93
98
104
For the correct garment treatment, please follow the manufacturer's instructions.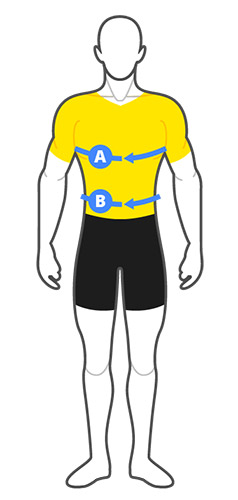 To be able to write a review you need to be logged in
Are you not registered on LordGun?
What are you waiting for, Sign up Now
Everyday we do our best to guarantee our customers:
Fast shipments
Product Warranty
After sales service
Competitive prices
Register
To ask a question to other users you need to be logged in.
Are you not registered on LordGun?
What are you waiting for, Sign up Now
Everyday we do our best to guarantee our customers:
Fast shipments
Product Warranty
After sales service
Competitive prices
Register